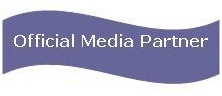 ReConnect Africa is the official media partner for the following upcoming events. Please refer to the event website or contact the event organisers directly for further information about the event and/or to register.
Coming Up.....
July 2018
10–12 July – West Africa Water Expo (WAWE), Lagos, Nigeria

WAWE EXPO offers unique value to companies, associations and other industry players connected with Water Expo and serve them through our huge national and international network and resources which offers access to foreign embassies, chambers of commerce, industry associations experts and consultants, construction companies and water project contacts, as well as downstream industry matches.
We offer unique value to companies, associations and other industry players connected with Water Expo and serve them through our huge national and international network and resources which offers access to foreign embassies, chambers of commerce, industry associations experts and consultants, construction companies and water project contacts, as well as downstream industry matches.
During the show you will have Match Making Service as well.Contact us on: info@elanexpo.nethttp://www.elanexpo.net
10–12 July – West Africa HVAC Expo, Lagos, Nigeria

WAWE EXPO WEST AFRICA HVAC 2017 event attracted 72 exhibitors, representing companies from 16 countries , Nigeria, Turkey, China, Egypt, India, Iran, Tunisia, U.A.E, Germany, Poland, Tanzania, USA, S. Korea, Japan, France, Switzerland, as well as more than 3800 visitors throughout Africa such as Kenya, South Africa , Ghana, Tanzania, Egypt, Turkey ,India ,Lebanon, Ethiopia.
Top global brands such as Siemes, York, Carrier, LG, Panasonic, Daikin, Bluaberg, Emerson, China Fore, Baymak, Wiloand etc. were present and all reported excellent contacts and business conducted across the 3 days of the event.
In addition to the exhibitors, HVAC Expo played host a comprehensive educational programme of workshops.
Contact us on: info@elanexpo.nethttp://www.elanexpo.net
29–31 July – MENA Innovation 2018 – Cairo, Egypt

Official Ministerial Summit for ICT Innovation in Education & Digital Inclusion
MENA Innovation 2018 is the must attend event for industry solution providers to engage with clients, government partners and to develop future business prospects in the region. Organisation of MENA Innovation 2018 was confirmed in a signing ceremony at the Ministry of Communications and Information Technology.
MENA Innovation 2018 will take place in Cairo under the official patronage of H.E. Yasser El Kady, Egyptian Minister of Communications & Information Technology. The full weight of the Egyptian Government is behind the organisation of the summit that will also include ministerial participation from the Ministry of Education and Ministry of Higher Education & Scientific Research. This high-level meetings-based forum will bring together ministers, senior government officials, universities and civil society stakeholders from across the MENA region and African countries to engage with leading industry operators and solution providers.
The organisers, Brains Innovation Summits, have established the most successful meetings-based format between industry and government decision-makers across the Middle East and Africa. This official ministerial summit represents the perfect opportunity to do face-to-face business by booking pre-scheduled meetings and enjoying a wealth of content dedicated to education, ICT and innovation.
This landmark event will bring together ministers and senior officials for education, ICT, higher education and science & technology from all participating countries with personal invitations being extended by the Egyptian Government.
For further details and to register: http://mena-innovation.com/2018
August 2018
1-2 August - 7th Annual Customer Experience Management Africa Summit, Cape Town, South Africa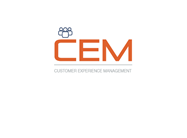 Business Led Customer Experience
CEM Africa is a meeting place for CX professionals and innovative CX solution providers. The show takes place on the 1-2 August 2018 at the state of the all new CTICC 2 in Cape Town, where like-minded customer experience experts and the top CX solution providers gather for an informative and educational summit with the common goal of improving customer experience across Africa. The event will provide a platform for like-minded CX professionals to showcase their industry knowledge as well as solutions to better the customer's perception of the brand.
Generating a real return on CX initiatives
The 2018 edition of CEM Africa will focus on customer experience from a business led perspective. Understanding the need for clear and measureable returns and an accelerated impact on revenue growth, the summit themes are framed to facilitate these outcomes.
Driving Customer Emotions
Although brands may be liked or trusted, most fail to align themselves with the emotions that drive their customers' most profitable behaviours. Some brands by nature have an easier time making such connections, but a company doesn't have to be born with the emotional DNA of Disney or Apple to succeed. This session will investigate best practice applications of emotional motivators, story-telling to link emotions and creating consistency and relevance when driving customer emotions.
Outside-In CX
Customer centricity is an organisation wide prerogative and responsibility. True outside-in-cx is authentic, relevant and bound to the company purpose. This session dives into the practical application of customer centricity, how to tie emotion, measurement and data together in a workable strategy and how to prepare your employees to handle it all.
Extracting Value from Data
The rapid development of technology in CX has failed to produce a corresponding return. Much of this has to do with an over-prioritization on technology as opposed to the insights that it generates. Extracting value from data will examine how to draw the most out of your data and bring your CX strategies to life. This session will cover best practice case studies and how to leverage technology intelligently to get a more efficient and valuable return on investment.
Calculating Experiences
It is clear that measurement is a key factor in allocating company resources and justifying investment in CX. Knowing where to focus and how to construct measureable initiatives is a major pain point for CX professionals. This session will explore what to measure and how to identify correlations between CX initiatives and business objectives to create a measurable customer experience strategy that delivers real business results.
For details and to register: Website: www.cemafricasummit.com
Twitter handle: @CEMAfricaSummit & @KineticEventsSA
Facebook: https://www.facebook.com/CEMAfrica/
LinkedIn: http://bit.ly/CEM_Group
Youtube: http://bit.ly/CEM_Video
30 - 31 August - ProInvest Africa 2018, The Hyatt Regency, Johannesburg, South Africa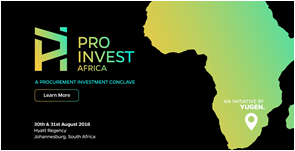 When you're working with a topic as evocative as 'PROCUREMENT' and 'INVESTMENT', it's easy to build a vibrant and exciting event around it. However, this initiative ProInvest Africa 2018, which takes place at Hyatt Regency, Johannesburg, South Africa, really is a stone unturned.
With a vision to contribute and support the growth of Real Estate in Sub-Saharan and Southern African Region – ProInvest gears up to host the best of class suppliers from across the Globe to cater to Residential, Commercial, Healthcare, Hospitality and Education projects in Africa.
Pan Africa Chamber of Commerce and Industry (PACCI) join hands with Yugen (organizer) to make ProInvest Africa 2018, "The Ultimate Platform" in reaping the best return on time and money invested for everyone involved in this gathering. The buyers include Hotel owners, Operators, developers, architects, PMC's, quantity surveyors & construction companies who are responsible for procuring solutions and Investments for all their current and future projects.
1000+ Face To Face Business Meetings, Prior Notification of 400+ Residential, Commercial and Hospitality Projects with their Requirements, Budget, Contact details and a lot of key information regarding their projects Panel discussions revolving around Sustainability,
Affordable Housing and Technological Advancement, Design elements, Procurement Opportunity to experience to build a long-term relationship with the buyers hence repeated business A Speaking slot to personally present your products and services to 200+ Decision Makers A Cocktail Dinner where you can network and mingle with the Real estate Business officials.
Reach out (enquiry@proinvestafrica.com) to get on board.
September 2018
18-20 September – Propak West Africa 2018, Lagos, Nigeria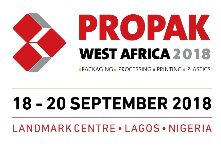 Propak West Africa is the region's largest exhibition and conference dedicated to packaging, plastics, processing and print. Taking place in West Africa's central hub; Lagos, Nigeria, the exhibition will be held between 18 – 20 September 2018 at the Landmark Centre.
3,261 senior industry professionals came together in 2017 to discover a wide range of products and solutions from over 135 exhibiting companies. In 2018, this established trade show will mark its 6th edition and is set to be the largest to date, with up to 4,000 attendees expected and more than 150 brands on display.
Discover business solutions from across a wide range of different market sectors including plastics, packaging, food processing, manufacturing equipment, printing, chemicals, pharmaceuticals, publishing and many more.
Enjoy unique networking and learning opportunities over three days with numerous product launches, live equipment demonstrations from the industry's leading brands and a daily free-to-attend conference. Running daily sessions of prominent presentations, technical classes and panel discussions from expert representatives and government officials, learn about the latest issues surrounding the market and understand how you can apply this knowledge to your business.
With sister shows in Kenya and South Africa, the exhibition is West Africa's most convenient platform for business, innovation and knowledge in the industry. Join thousands of senior packaging managers, consultants, suppliers and printers as they collaborate in sharing important insights and crucial experience at the industry event of the year.
For more information visit:http://www.propakwestafrica.com/
Contact: Abby Cairns
T: +44 (0)20 7886 3032
26–28 September – eLearning Africa 2018, Kigali, Rwanda

The 13th edition of eLearning Africa, the International Conference on ICT for Development, Education and Training, will take place on September 26 ' 28, 2018 in Kigali, Rwanda. The conference, which is being jointly organised by ICWE GmbH and the Rwanda Convention Bureau under the patronage of the Rwandan Government, usually attracts well over 1,000 participants from all over the world. They are not only teachers, academics and learning experts, but political leaders, policy makers, investors, technologists, business leaders and entrepreneurs too. The conference is also the occasion for an annual round table meeting of African education and technology ministers.
eLearning Africa is the key networking event for ICT supported education, training and skills development in Africa and brings together high-level policy makers, decision makers and practitioners from education, business and government.
Serving as a pan-African platform, the eLearning Africa conference is a must for those who want to develop multinational and cross-industry contacts and partnerships, as well as enhance their knowledge, expertise and abilities. eLearning Africa has taken place in a different African country each year since its inception in 2005, and the conference languages are English and French.eLearning Africa attracts education professionals, investors and providers of education and training.
eLearning Africa 2018 will take place from 26 ' 28 September in Rwanda's capital city, Kigali, which has gained a reputation for its ICT-based initiatives in a variety of sectors. So great is its apparent enthusiasm for new technological solutions that some observers have referred to it as the "Innovation City of Africa."
Under the overall theme of 'Uniting Africa', conference participants will discuss how the benefits of technology can be shared and help to improve education across Africa, making a reality of the African Union's 2063 Vision of a "transformed continent." Over 12 consecutive years, eLearning Africa has hosted 16,228 participants from 100+ different countries around the world, with over 85% coming from the African continent. More than 3,300 speakers have addressed the conference about every aspect of technology enhanced education and skills development.
Contact: Rebecca Stromeyer, info@elearning-africa.com, http://www.elearning-africa.com
eLearning Africa News Portal: http://ela-newsportal.com/
MENA Innovation 2018 – Event Info
October 2018
2-4 October - Africa Hotel Investment Forum, Radisson Blu Hotel, Upper Hill Nairobi, Kenya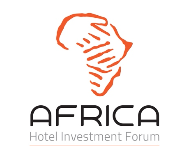 The Africa Hotel Investment Forum (AHIF) is the only annual hotel investment conference that connects business leaders from the international and local markets. The event brings together the who's who of the hotel investment community that drive investment into tourism projects, infrastructure and hotel development across Africa.
AHIF has proven to be Africa's annual meeting place for the region's most senior hotel investors, developers, operators and advisors. It is the annual conference that connects business leaders from international and local markets to do deals across the region.
For more information visit:https://www.africa-conference.com/
PLEASE NOTE
: ReConnect Africa accepts no responsibility for any of the events described above and/or any dealings with the event organisers.